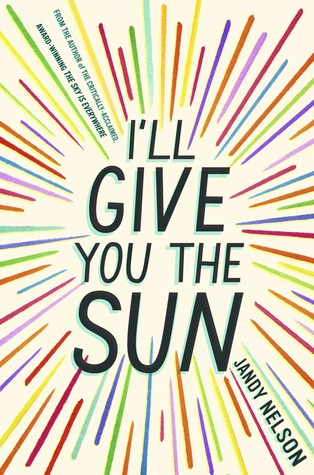 I'll Give You The Sun by Jandy Nelson
Publisher: Dial Books
Goodreads Summary: Jude and her twin brother, Noah, are incredibly close. At thirteen, isolated Noah draws constantly and is falling in love with the charismatic boy next door, while daredevil Jude cliff-dives and wears red-red lipstick and does the talking for both of them. But three years later, Jude and Noah are barely speaking. Something has happened to wreck the twins in different and dramatic ways . . . until Jude meets a cocky, broken, beautiful boy, as well as someone else—an even more unpredictable new force in her life. The early years are Noah's story to tell. The later years are Jude's. What the twins don't realize is that they each have only half the story, and if they could just find their way back to one another, they'd have a chance to remake their world.
Rating: 5 Stars
Review: I'll Give You The Sun is different from every other book I've ever read.

Jude and Noah are twins; they were once close, but gradually fell apart as time passed. I'll Give You The Sun is the tale of their reconciliation.

At first, I'd expected it to be boring, but after reading the first section I really understood that it was absolutely not boring. I really love how Noah gets the early years (13) and Jude the late/present (16); they alternate chapters, which both means that there is no need to go in detail about the past because it's described in the next chapter, and it's a cool way to see the past in more detail. The chapters were quite long, but I enjoyed them nonetheless.

I've never read anything by Jandy Nelson before, but after reading I'll Give You The Sun I'm definitely going to, most likely starting with The Sky is Everywhere.

I'll Give You The Sun is very unique, and the ending is unlike anything I've seen; different and harmonious, perfect. I can't seem to put it into a genre, but I'll Give You The Sun is a great read for all book fans alike. Jandy Nelson is an excellent writer, Noah and Jude's story was very well developed.
Purchase Location: Borrowed From Library
Edition: Hardcover

Recommended for: Fans of YA Contemporary.