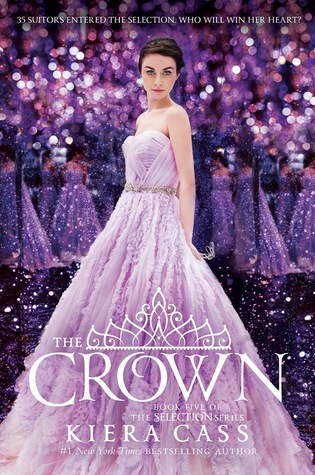 The Crown (The Heir #5) by Kiera Cass
Publisher: HarperCollins
Goodreads Summary: Kiera Cass's #1 New York Times bestselling Selection series has captured the hearts of readers from its very first page. Now the end of the journey is here. Prepare to be swept off your feet by The Crown—the eagerly awaited, wonderfully romantic fifth and final book in the Selection series.

In The Heir, a new era dawned in the world of The Selection. Twenty years have passed since America Singer and Prince Maxon fell in love, and their daughter is the first princess to hold a Selection of her own.

Eadlyn didn't think she would find a real partner among the Selection's thirty-five suitors, let alone true love. But sometimes the heart has a way of surprising you…and now Eadlyn must make a choice that feels more difficult—and more important—than she ever expected.
Rating: 3.5 Stars
Review: Well, The Crown certainly brought the series to an end. Following on from the events of The Heir, Eadlyn narrows down her Selection to The Elite, six men until a new Prince of Illea.

I enjoyed The Crown, but I didn't love it. I have never really looked back on past reviews, so I am uncertain as to what I wrote about Eadlyn's character in my review of The heir, but my current and final opinion is that I can relate to her, but I feel as if she is too distant.

Eadlyn's character develops hugely in the finale to the series, and she begins to understand what lies in the world outside her sheltered life.

My major dislike of The Crown was how I predicted everything from a mile away. Sure, I turned the pages in the correct order (besides checking the ending I'd already predicted), but I felt as if Kiera Cass was whispering what was to happen in my ear. Untrustworthy characters, plot twists... All of that.

Overall, The Crown was quite an interesting book. I found it easy to put down, but the story was there.
Purchase Location: Borrowed From Library
Edition: Paperback
Buy the book: Book Depository
Quotes:

"Maybe it's not the first kisses that are supposed to be special. Maybe it's the last ones." — Kile Woodwork to Eadlyn.

Recommended for: Fans of quick reads.