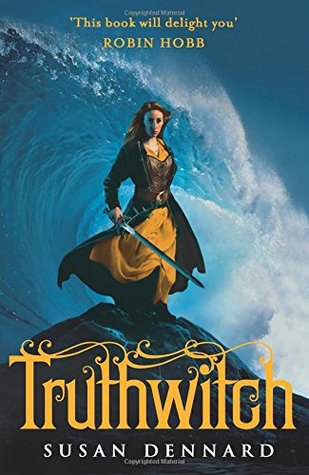 Truthwitch (The Witchlands #1) by Susan Dennard
Publisher: Tor Books
Goodreads Summary: In a continent on the edge of war, two witches hold its fate in their hands.

Young witches Safiya and Iseult have a habit of finding trouble. After clashing with a powerful Guildmaster and his ruthless Bloodwitch bodyguard, the friends are forced to flee their home.

Safi must avoid capture at all costs as she's a rare Truthwitch, able to discern truth from lies. Many would kill for her magic, so Safi must keep it hidden - lest she be used in the struggle between empires. And Iseult's true powers are hidden even from herself.

In a chance encounter at Court, Safi meets Prince Merik and makes him a reluctant ally. However, his help may not slow down the Bloodwitch now hot on the girls' heels. All Safi and Iseult want is their freedom, but danger lies ahead. With war coming, treaties breaking and a magical contagion sweeping the land, the friends will have to fight emperors and mercenaries alike. For some will stop at nothing to get their hands on a Truthwitch.
Rating: 5 Stars
Review: With all it's glorious recommendations from fantasy authors I know and love, only now did I bother to read Truthwitch. But hell, it was worth it. I couldn't stop reading, even when my neck ached and my eyes begun to tire I continued, mesmerised by Safiya and Iseult's story, unable to stop.

Okay, I have to start by talking about Safi and Merik. From their first meeting, I knew something was going to happen between them it was destined. I love them so much, and certainly ship them, they're perfect for each other.

Iseult or Safiya? At first, I thought Iseult, because of her representing the dark, but I grew to like Safi more and more, so my decision at the end of Truthwitch is Safiya. I've heard that Windwitch is centered around Merik, and I am so, so so excited.

As for the actual world Truthwitch is set it, Susan Dennard had it sussed. She is an expert worldbuilder, and built her world perfectly, filled with heaps of tiny details missing from many fantasy books. She included real world issues as well, such as race discrimination and a fragile truce between some countries, the brink of war.

Told from multiple third person limited POVs, Susan Dennard's Truthwitch will entice you and leave you wanting more. I only just finished reading it, but I'm already craving Windwitch, book two. For all you fantasy lovers, don't hesitate before you decide to read Truthwitch.
Purchase Location: Borrowed From Library
Edition: Paperback
Buy the book: Book Depository
Recommended for: Fans of AMAZING fantasy books.