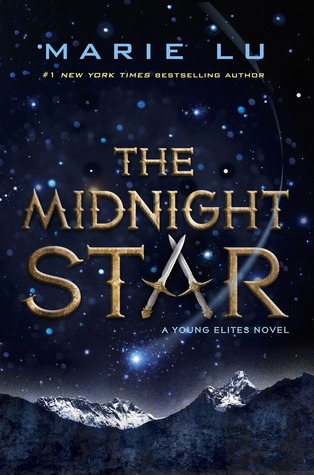 The Midnight Star (The Young Elites #3) by Marie Lu
Publisher: Penguin Books Ltd
Goodreads Summary: There was once a time when darkness shrouded the world, and the darkness had a queen.

Adelina Amouteru is done suffering. She's turned her back on those who have betrayed her and achieved the ultimate revenge: victory. Her reign as the White Wolf has been a triumphant one, but with each conquest her cruelty only grows. The darkness within her has begun to spiral out of control, threatening to destroy all she's gained.

When a new danger appears, Adelina's forced to revisit old wounds, putting not only herself at risk, but every Elite. In order to preserve her empire, Adelina and her Roses must join the Daggers on a perilous quest—though this uneasy alliance may prove to be the real danger.
Rating: 5+ Stars
Review: Adelina Amouteru has many names. Queen of the Sealands, she is restless as she conquers more and more lands under her flag of the White Wolf. She is plagued by the illusions, whispers inside her head, the consequence of her ability. When her old ally Raffaele asks her for help, she is forced to accept and go on a perilous journey.

The Midnight Star brought so many of my emotions to the surface, touching on a plethora of sensitive topics. Death is quite a common occurrence, however the grief and emotions conveyed are extremely realistic and touching. Adelina's perspective shines strongly throughout the novel, and near the end her character is stripped right back, allowing us to see that no one is purely good or evil.

Raffaele has been a favourite of mine since book one, and even with complications his kind heart stays true, though I grew somewhat frustrated with him when he "gave up" on Adelina, I thought it was uncharacteristic of him to do so. Adelina reminds me so much of myself, her struggles dealt with in the wrong way, resulting in her learning lessons the hard way. I developed a building full of respect for Magiano; he respects Adelina and accepts her for who she is, nothing more. Teren's character also got to me, a tortured soul who believes he is responsible for all wrong in the world. By the end of his chapter, I was on the verge of tears.

Marie Lu is an emotive writer, The Midnight Star being the obvious example of this. This book is no easy feat to write, so many hard decisions are made by the author and characters. The Young Elites series is a lot darker compared to Legend, which only makes me love it more. The Midnight Star concludes the series with the ending they deserve; each of the characters must face their darkest fears as their hidden emotions are unearthed from within their shield, making the hard choices that will define them. I cried when it was over. And now it truly is gone... Rest in peace, Young Elites.
Purchase Location: Borrowed From Library
Edition: Paperback
Buy the book: Book Depository
Quotes:

"None of us are saints, [we] can all do better." -Magiano, The Midnight Star by Marie Lu

"It will make this night a little less dark."

"When she appears on the other side of the world, I will be there, and when she returns here, so will I."

"This farewell is not forever."
Recommended for: Fans of dark tales and emotional books.