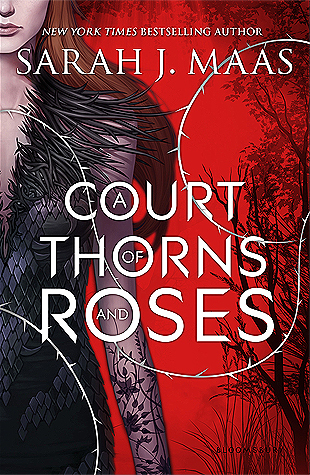 A Court of Thorns and Roses (A Court of Thorns and Roses #1) by Sarah J. Maas
Publisher: Bloomsbury
Goodreads Summary: A thrilling, seductive new series from New York Times bestselling author Sarah J. Maas, blending Beauty and the Beast with faerie lore.

When nineteen-year-old huntress Feyre kills a wolf in the woods, a beast-like creature arrives to demand retribution for it. Dragged to a treacherous magical land she only knows about from legends, Feyre discovers that her captor is not an animal, but Tamlin—one of the lethal, immortal faeries who once ruled their world.

As she dwells on his estate, her feelings for Tamlin transform from icy hostility into a fiery passion that burns through every lie and warning she's been told about the beautiful, dangerous world of the Fae. But an ancient, wicked shadow grows over the faerie lands, and Feyre must find a way to stop it... or doom Tamlin—and his world—forever.

Perfect for fans of Kristin Cashore and George R. R. Martin, this first book in a sexy and action-packed new series is impossible to put down!
Rating: 5+ Stars
Review: Three Faerie tales in a row... Completely different. And, I loved them all.

The blurb got me the first time I read it, and it definitely got me this time. A simple idea put into words. But I didn't ever imagine how amazing A Court of Thorns and Roses could truly be.

Feyre is a human who has lost everything; her family's wealth stripped from them years ago, forcing them to live as peasants. She spends her time in a dangerous woods searching for a meal to feed her starving family.

Of all the characters, there were many I admired. Nesta, first and foremost. Not a major character at all, but I really related to her. Rhysand was also my kinds of character, mysterious with hidden agendas.

Tamlin and Feyre were absolutely amazing. I loved watching their relationship grow, from hatred, to love. Amarantha was a powerful character, a major conflict of the story, an antagonist in every way.

I absolutely loved the storyline of ACOTAR, Feyre's journey was filled with complications which only made me love Sarah J. Maas even more. I highly recommend ACOTAR to all fantasy lovers and ToG fans.
Purchase Location: Borrowed From Library
Edition: Paperback
Buy the book: Book Depository
Recommended for: Fans of twisted fairytales, and fantasy lovers.