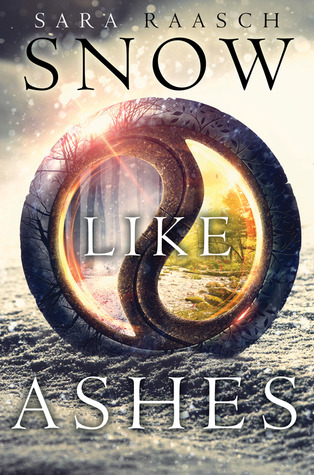 Snow Like Ashes (Snow Like Ashes #1) by Sara Raasch
Publisher: Balzer + Bray
Goodreads Summary: A heartbroken girl. A fierce warrior. A hero in the making.
Sixteen years ago the Kingdom of Winter was conquered and its citizens enslaved, leaving them without magic or a monarch. Now, the Winterians' only hope for freedom is the eight survivors who managed to escape, and who have been waiting for the opportunity to steal back Winter's magic and rebuild the kingdom ever since.
Orphaned as an infant during Winter's defeat, Meira has lived her whole life as a refugee, raised by the Winterians' general, Sir. Training to be a warrior—and desperately in love with her best friend, and future king, Mather — she would do anything to help her kingdom rise to power again.
So when scouts discover the location of the ancient locket that can restore Winter's magic, Meira decides to go after it herself. Finally, she's scaling towers, fighting enemy soldiers, and serving her kingdom just as she's always dreamed she would. But the mission doesn't go as planned, and Meira soon finds herself thrust into a world of evil magic and dangerous politics – and ultimately comes to realize that her destiny is not, never has been, her own.
Rating: 5+ Stars
Review:
I've read a lot of astonishing debuts, especially this year 2015, but Snow Like Ashes is definitely one of the best.
Meira is such a strong, fierce, determined heroine. She wants to be in control of her destiny, and has lots of defiance in her. I absolutely love that Sara Raasch thought of such normal, yet original names for the kingdoms of her world.
When I met Theron, I immediately felt a connection, and in my heart I thought he was the one. It's a close call, but I'm on Theron's side at this point. I really hope the love triangle dissolves peacefully instead of ruining the series.
As I was nearing the end, I realised I had book two; it might not sound like much, but I just love to read series one book after the over. I've waited for a long time to finally read Snow Like Ashes, but I don't regret it. Sara Raasch has created a detailed and deliberate world, and Snow Like Ashes is an amazing debut.
Purchase Location:
Borrowed From Library

Edition:
Paperback

Buy the book:
Amazon
|
Barnes & Noble
Recommended for: Fans of YA