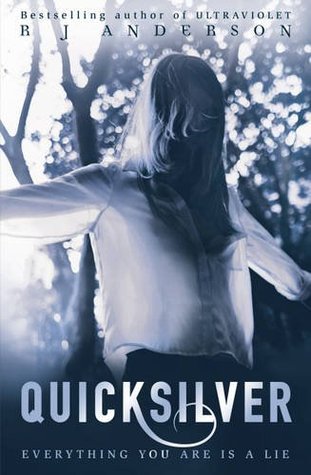 Quicksilver (Ultraviolet #2) by R.J. Anderson
Publisher: Orchard Books
Goodreads Summary: Back in her hometown, Tori Beaugrand had everything a teenaged girl could want—popularity, money, beauty. But she also had a secret. A secret that could change her life in an instant, or destroy it.

Now she's left everything from her old life behind, including her real name and Alison, the one friend who truly understood her. She can't escape who and what she is. But if she wants to have anything like a normal life, she has to blend in and hide her unusual... talents.

Plans change when the enigmatic Sebastian Faraday reappears and gives Tori some bad news: she hasn't escaped her past. In fact, she's attracted new interest in the form of an obsessed ex-cop turned investigator for a genetics lab.

She has one last shot at getting her enemies off her trail and winning the security and independence she's always longed for. But saving herself will take every ounce of Tori's incredible electronics and engineering skills—and even then, she may need to sacrifice more than she could possibly imagine if she wants to be free.
Rating: 4 Stars
Review: Quicksilver was just as good as it's prequel Ultraviolet, if not better. It was set in a very similar format to Ultraviolet, but instead of being narrated from Alison, it was narrated by Tori.

Quicksilver continued right where Ultraviolet left off, from Tori's POV. It was full of action and adventure. Tori is still being hunted by her past, and she tries to hide.

Sebastian and Alison aren't as prominent in Quicksilver, and a few new characters are introduced. However, R.J. Anderson sticks to the storyline.

I really enjoyed Quicksilver as a whole. I really hope there is a third book!
Purchase Location: Borrowed From Library
Edition: Paperback
Buy the book: Book Depository
Recommended for: Fans of original books.