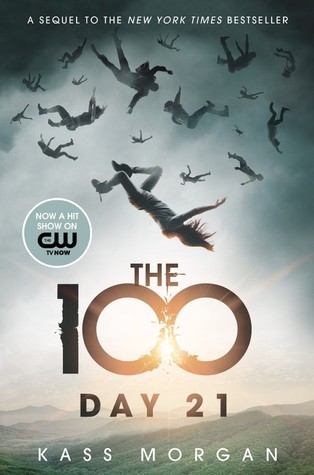 Day 21 (The 100 #2) by Kass Morgan
Publisher: Hodder Paperbacks
Goodreads Summary: No one has set foot on Earth in centuries -- until now.
It's been 21 days since the hundred landed on Earth. They're the only humans to set foot on the planet in centuries...or so they thought. Facing an unknown enemy, Wells attempts to keep the group together. Clarke strikes out for Mount Weather, in search of other Colonists, while Bellamy is determined to rescue his sister, no matter the cost. And back on the ship, Glass faces an unthinkable choice between the love of her life and life itself.
In this pulse-pounding sequel to Kass Morgan's The 100, secrets are revealed, beliefs are challenged, and relationships are tested. And the hundred will struggle to survive the only way they can -- together.
Rating: 4 Stars
Review: Day 21 was another great, quick read. It is told from the same perspectives as The 100, although I felt like the plot really accelerated and moved forward, unlike The 100.

The 100 have now discovered that they're not the only ones on earth.T here are others around, and they appear to be killing them off one at a time.

There were a lot more plot twists in Day 21, and I really liked the ending. I definitely ship Clarke + Bellamy, Wells + Sasha, and Glass + Luke. I don't think Glass gets enough chapters throughout the books for me to see her story clearly.

I can't really think of anything else to say. It's quite similar to The 100, maybe not that much action overall, but I liked it.
Purchase Location: Borrowed From Library
Edition: Paperback
Buy the book: Book Depository
Recommended for: Fans of YA Adventure and Sci-fi.