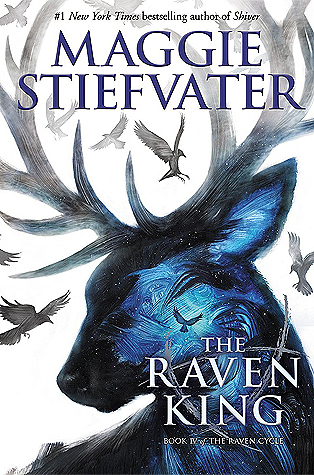 The Raven King (The Raven Cycle #4) by Maggie Stiefvater
Publisher: Scholastic Press
Goodreads Summary: Nothing living is safe. Nothing dead is to be trusted.

For years, Gansey has been on a quest to find a lost king. One by one, he's drawn others into this quest: Ronan, who steals from dreams; Adam, whose life is no longer his own; Noah, whose life is no longer a lie; and Blue, who loves Gansey… and is certain she is destined to kill him.

Now the endgame has begun. Dreams and nightmares are converging. Love and loss are inseparable. And the quest refuses to be pinned to a path.
Rating: 5 Stars
Review: The Raven King started with excitement, and ended with excitement. As for in between? It was both utter seriousness and complete humour. The Raven King revealed all the answers I expected, plus more. The plot twists wowed me, and I loved them all so much. However, I did not expect to laugh at every second page. I'd forgotten about how funny Maggie Stiefvater's writing could be. You could say, I missed it.

Now, the story line. Where do I start? It was a delicately woven quilt, detailed and complex but not an overwhelming design. The only thing I disliked was that there was no follow up to a few events, mainly minor, e.g. Blue being seen with The Raven Boys. I mean, seriously. Wouldn't that create some drama at her school? To be honest, Blue's school was a VERY minor part of the story. I thought it should've had a bigger part.

My favourite character of the series will always remain Ronan. From his first appearance in The Raven Boys, I loved his attitude, and everything about him. Sarcastic, protective, he is honestly like a brother to me. He hides his emotions well, but shows that he cares about his friends in his own way.

The ending really surprised me. For a bit, I was screaming "no! Ronan, come back, don't you dare do this to me!" And then it was suspicion that kept me reading on. The actual Epilogue fast forwarded to graduation time, Adam trying to make peace with his parents, and Ronan's graduation present for the crew.

Maggie Stiefvater's style is unique, humorous, and extremely enjoyable. This is the fifth book I've read by her, and I will definitely be reading more. The Raven Cycle is one of my favourite series and I definitely recommend it.

Uh, guys... How did I NOT see Pynch coming from a mile away? Oops. But I ship it with my heart.
Purchase Location: University Book Shop Dunedin
Edition: Hardcover
Buy the book: Book Depository
Quotes: None, but it was my first time using markers in my books. I tagged some quotes, Ronan moments, pages I loved, and more.
Recommended for: All fans of a great adventure and paranormal story.