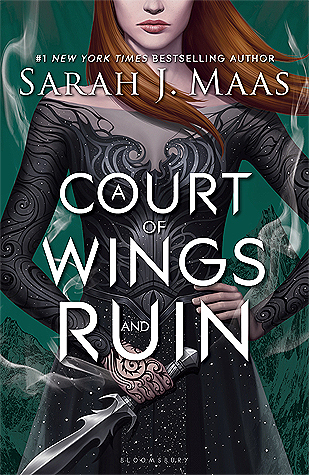 A Court of Wings and Ruin (A Court of Thorns and Roses #3) by Sarah J Maas
Publisher: Bloomsbury
Goodreads Summary: A nightmare, I'd told Tamlin. I was the nightmare.

Feyre has returned to the Spring Court, determined to gather information on Tamlin's maneuverings and the invading king threatening to bring Prythian to its knees. But to do so she must play a deadly game of deceit—and one slip may spell doom not only for Feyre, but for her world as well. As war bears down upon them all, Feyre must decide who to trust amongst the dazzling and lethal High Lords—and hunt for allies in unexpected places.
Rating: 5 Stars
Review: The stars winked into existence, dim and small above the blazing fires."

Feyre Archeron has returned to the Spring Court. Disguising her true identity, she must play a dangerous game and gain Tamlin's trust to glean information on what the King of Hybern plans. As enemies and friends alike corner her, Feyre must bide her time, trusting carefully or risk leading Hybern to her court and her heart...

"We're all broken. In our own ways - in places no one might see."

While A Court of Mist and Fury had a strong focus on Feyre's recovery from trauma, ACOWAR chooses to extend this focus to the inner circle as well as Feyre's sisters Nesta and Elain. The two girls must heal in their own ways, and I love how different yet similar their healing processes are. All of our favourites go through hard times and can only face their demons when they choose to.

"I unsheathed my Illyrian blade from across my back, the metal dark and ancient by comparison to the living silver flame in her hand."

For the first time in this series, we truly see war rather than a battle or two. It is bitter, brutal and terribly bloody. The details of these battles are written out exquisitely, every word carefully chosen. Strategic decisions are also debated thoroughly, often ending in disagreement and unrest. Each character stays true to themselves in that they make their own decisions based off personal experiences and thinking patterns. Selflessness and sacrifice come into the picture now more than ever.

"And when that night-kissed wind winnowed us away, away into war, away into untold danger... I prayed that my promise held true."

Hope. Such a strong emotion, but one which not all believe in. Do you? hope certainly plays a role in A Court of Wings and Ruin, one piece of the big picture. Perhaps it is a fool's wish, perhaps it is not. Regardless, spirit can conquer anything. A sub plot of ACOWAR sees us following the story of a broken promise and its aftermath. We watch, confined to our seats, as these two mend each other through many hardships and difficult situations, slowly growing closer together. Resurrection and redemption come into play hand in hand, yet can only be executed when forgiveness and hope are on the table. A Court of Wings and Ruin slams the door shut on this trilogy, yet leaves room for the books to come.
Purchase Location: Bought at University Book Shop
Edition: Hardcover
Buy the book: Book Depository
Recommended for: Fans of fantasy, action and romance.