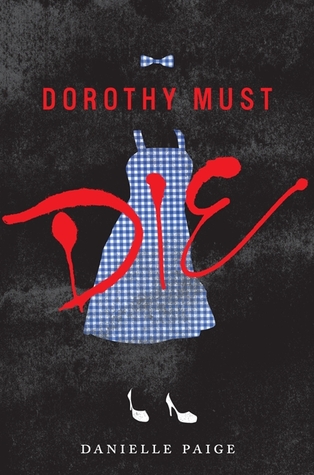 Dorothy Must Die (Dorothy Must Die #1) by Danielle Paige
Publisher: HarperCollins
Goodreads Summary: I didn't ask for any of this. I didn't ask to be some kind of hero.

But when your whole life gets swept up by a tornado - taking you with it - you have no choice but to go along, you know?

Sure, I've read the books. I've seen the movies. I know the song about the rainbow and the happy little bluebirds. But I never expected Oz to look like this. To be a place where Good Witches can't be trusted, Wicked Witches may just be the good guys, and winged monkeys can be executed for acts of rebellion. There's still a yellow brick road - but even that's crumbling.

What happened? Dorothy.

They say she found a way to come back to Oz. They say she seized power and the power went to her head. And now no one is safe.

My name is Amy Gumm - and I'm the other girl from Kansas.

I've been recruited by the Revolutionary Order of the Wicked.

I've been trained to fight.

And I have a mission.
Rating: 5 Stars
Review: Well, I decided to read Dorothy Must Die because the wonderful Harper Collins NZ sent me Book 3, Yellow Brick War, but also because I've always wanted to read it, and finally I had a good reason to!

Before Dorothy Must Die, I'd never read or watched anything related to The Wizard of Oz. Nonetheless, Dorothy Must Die gave me enough background that I understood the characters, and how they were before the retelling.

I was addicted to Dorothy Must Die and simply couldn't stop reading. Amy is an awesome heroine and I loved the first sentence. I don't know whether to hate or love Nox, he really reminds me of Dai from Magonia by Maria Dahvana Headley, I feel like he is going to betray Amy and side with the witches, as he owes his life to them.

Danielle Paige had me hooked from chapter to chapter, each chapter's end was just another brief conclusion that was enough a cliffhanger to compel me to continue reading. Dorothy Must Die is like no book I've ever read, and even with the use of the common "trust no one", loyalties proved a lot more tangled than I imagined.

Think of a place where the wicked are supposedly the good, and the good are evil. That place you're envisioning is Dorothy's Oz, the setting of Dorothy Must Die. I really liked the shocking ending. Note: I wouldn't say you have to know anything about Oz to read this book, I certainly had no clue what was going on, but it was all explained!
Purchase Location: Borrowed From Library
Edition: Paperback
Buy the book: Book Depository
Quotes:

"He was beautiful. He was too beautiful. It was the kind of beautiful you don't want to touch, because you know it might burn."

"'Who are you?'
'I'm not one.'"

"Be brave. Be angry. Don't trust anyone."

"It always wants to be something different from what it already is."

"I was testing him now. I wanted him to correct me."

"With all the magic in Oz, with all the magic the witches had taught me, there was one trick I still hadn't mastered: how to make people stay."

"I couldn't figure him out. Was he using me or did he actually care about me? Hell, I couldn't even figure myself out. Did I want to kiss him or punch him in the face?"

"There must be some mistake. You're the bitch. I'm the witch."

Recommended for: Fans of retellings.