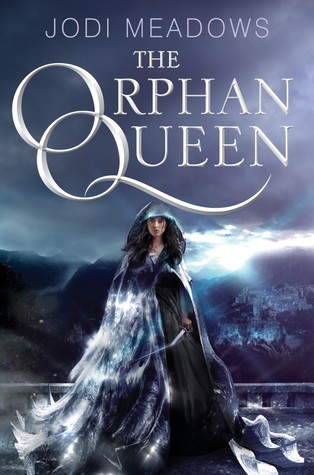 The Orphan Queen (The Orphan Queen #1) by Jodi Meadows
Publisher: Katherine Tegen Books
Goodreads Summary: Wilhelmina has a hundred identities.

She is a princess. When the Indigo Kingdom conquered her homeland, Wilhelmina and other orphaned children of nobility were taken to Skyvale, the Indigo Kingdom's capital. Ten years later, they are the Ospreys, experts at stealth and theft. With them, Wilhelmina means to take back her throne.

She is a spy. Wil and her best friend, Melanie, infiltrate Skyvale Palace to study their foes. They assume the identities of nobles from a wraith-fallen kingdom, but enemies fill the palace, and Melanie's behavior grows suspicious. With Osprey missions becoming increasingly dangerous and their leader more unstable, Wil can't trust anyone.

She is a threat. Wraith is the toxic by-product of magic, and for a century using magic has been forbidden. Still the wraith pours across the continent, reshaping the land and animals into fresh horrors. Soon it will reach the Indigo Kingdom. Wilhelmina's magic might be the key to stopping the wraith, but if the vigilante Black Knife discovers Wil's magic, she will vanish like all the others.

Jodi Meadows introduces a vivid new fantasy full of intrigue, romance, dangerous magic, and one girl's battle to reclaim her place in the world.
Rating: 5 Stars
Review: It seems that this is yet another week in which I've picked the right books to read! While it started off slow, The Orphan Queen is a fast paced, addicting read set in a fantasy world filled with politics.

When I first heard of the Black Knife, I thought he'd be a love interest of Wilhelmina. And then there was Tobiah, crown prince of the Indigo Kingdom. What I didn't expect was the identity shifts.

I really like Wilhelmina, she's a combination of some of the usual character stereotypes, kickass heroine and lost princess. Basically, a Celaena Sardothien in Jodi Meadows' world. While Tobiah seems like just a sullen prince, it soon becomes clear that he is more than that. The synopsis hints at Wilhelmina's best friend, Melanie's true loyalties, but when the facts are revealed it hits Wilhelmina hard. As for Patrick Lien, I really didn't like him at all.

I was quite shocked to find out there is only one other book in this series, and that it's just a duology. The Orphan Queen contains heaps of action, and I really hope that The Mirror King has the same but more, and ties off the series well. I can't wait to see where Jodi Meadows takes the story and watch the characters change and develop.
Purchase Location: Borrowed From Library
Edition: Hardcover
Buy the book: Book Depository
Recommended for: Anyone who likes a good fantasy.