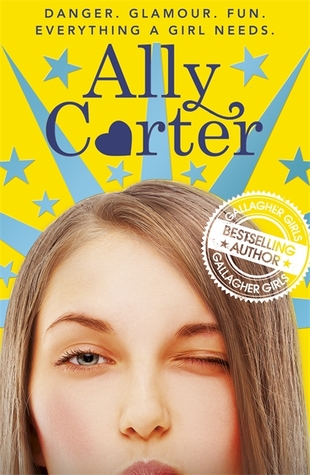 See How They Run (Embassy Row #2) by Ally Carter
Publisher: Orchard Books
Goodreads Summary: The second thrilling book in the EMBASSY ROW series.

Grace thought finding her mother's killer would bring her peace. But the truth has only made her a target. on Embassy Row, trust is a luxury. Death is a very real threat. And a girl like Grace should be very careful about which secrets she brings to light...
Rating: 5 Stars
Review: Imagine you are this book. You're crouched, body angled low at the start line of an 100m sprint race. You are tense, waiting for the gun to fire. Crack. You run, faster and faster. Except when you reach the finish, you don't slow, you explode.

That is the sensation I got while reading See How They Run. It didn't take me long to finish, I was so addicted. The Embassy Row series certainly has an element of mystery, but when the truth is revealed it is never expected, always rather shocking.

Grace and Alexei as a couple is something I didn't really think about in All Fall Down. I did in this book, and I'm expecting it in book three. See How They Run has done nothing but bring them together. I have no favourite character, but all of the main characters have unique personalities.

I really need to read more Ally Carter books! Her stories are addicting and challenge the supposed right and wrong. See How They Run is even better than All Fall Down, and I can't wait for book three to be out so I can read it.
Purchase Location: Borrowed From Library
Edition: Paperback
Buy the book: Book Depository
Recommended for: Fans of spy movies, this is a spy girl waiting for you. And of course, anyone who likes a slightly crazy main character.