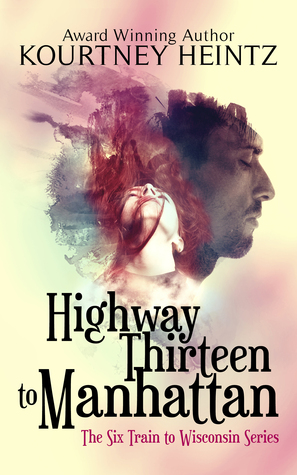 Highway Thirteen to Manhattan (The Six Train to Wisconsin #2) by Kourtney Heintz
Goodreads Summary: His secrets almost killed her. Her secrets may destroy them both.

Kai is recovering from a near-death experience when she realizes something isn't right. Her body is healing, but her mind no longer feels quite like her own. Her telepathic powers are changing, too. She can't trust herself. The darkness growing inside of her pushes her to use her telepathy as a weapon.

Oliver clings to the hope that he can save their marriage, even though he was the one who put her life in jeopardy. As his wife slips further and further away from him, he becomes increasingly obsessed with bringing the man who ruined his life to justice.

The sequel to The Six Train to Wisconsin is a genre-defying tale of love and consequences. Once again, award-winning author Kourtney Heintz seamlessly weaves suspense and paranormal intrigue into a real-world setting, creating characters rich in emotional and psychological complexity.
Rating: 3.5 Stars
Review: Kai barely survives a near encounter with death. Her quest to uncover herself drives a bridge between her and Butternut. Jealousy really gets between her relationship with Oliver as she chooses her brother Caleb over him. However, things aren't always as they seem...

I really struggled with deciding between giving this book 3.5 stars and 4 stars. As much as I wanted to give it 4 stars, potentially more, I feel like I couldn't (more on that later). Some aspects of the book were the same as it's prequel, which I liked. However some changed completely so that it is almost 100% contrary to the previous book. I'm still not sure whether I liked these aspects even more or less.

Caleb is still by far my favourite character and I am elated that I got to find out a lot more about him in this volume. His intense loyalty and protectiveness toward his sister shows that he is a good person, and that he genuinely cares. Kai and Caleb share a sibling bond that many don't, and I really value that kind of relationship not just in books but in real life. I also warmed to Alex. One of the reasons I didn't like book one is because I ended up liking Alex a lot more than Oliver who is meant to be the main love interest. Oliver is a kindhearted, decent man at the start of The Six Train to Wisconsin, but even at the beginning of this book he's changed so much and I'm not sure if I find it realistic that he's gone from perfect to a nobody.

By now, anyone can tell that Kai and Oliver aren't going to last (if they did, I would probably be even more cynical about this). Before I was talking about deciding what to rate this book. I lowered my rating of this book because this Kai/Oliver situation of 'I don't know, I might love you but I might love a Fuchs' really annoyed me. It kept coming back throughout the book and I felt that it was unnecessary and pointless. Other parts of the book, such as the mystery definitely appeased me. At first it's hidden away, but even when it comes out into the light shadows surround it.

The storyline didn't advance as much as it should've or as much as the first book, the focus being on relationships of all kids. In Highway Thirteen to Manhattan Kourtney Heintz really tells the tale of falling in and out of love. After everything I've said, I really like the ending of this book and I'm still interested in this series. I definitely have expectations for the third book.
Purchase Location: ~I received an ARC from the author in exchange for an honest review~
Edition: Paperback
Buy the book: Amazon
Recommended for: Fans of romance and magic set in a contemporary universe.