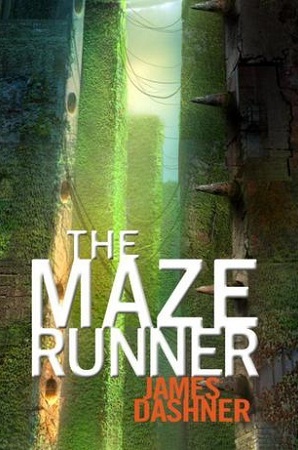 The Maze Runner (The Maze Runner #1) by James Dashner
Publisher: Delacorte Press
Goodreads Summary: If you ain't scared, you ain't human.

When Thomas wakes up in the lift, the only thing he can remember is his name. He's surrounded by strangers—boys whose memories are also gone.

Nice to meet ya, shank. Welcome to the Glade.

Outside the towering stone walls that surround the Glade is a limitless, ever-changing maze. It's the only way out—and no one's ever made it through alive.

Everything is going to change.

Then a girl arrives. The first girl ever. And the message she delivers is terrifying.

Remember. Survive. Run.
Rating: 5 Stars
Review: Terrifying. James Dashner creates a beautiful tale that pulls you in from the first word- as soon as you start reading you are caught up in Thomas' deadly world, and as you read it is as if you are Thomas himself, facing all his challenges and making his decisions. Not long after, you feel terrified- after, what if the maze is really just a joke? What if none of it is true? The maze runner is just stunning, and filled with suspense. James Dashner has created a brilliant action packed novel.
Edition: Paperback
Buy the book: Book Depository
Recommended for: Fans of Divergent, the Hunger games, Partials and other Dystopian/ Mystery novels will love this! Action is key.