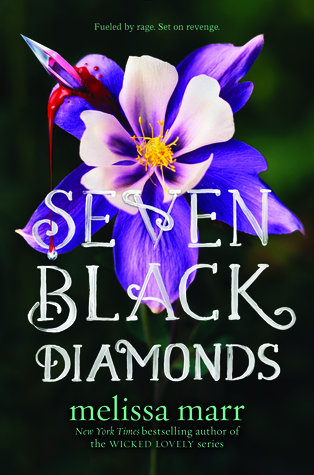 Seven Black Diamonds (Untitled #1) by Melissa Marr
Publisher: HarperCollins
Goodreads Summary: Lilywhite Abernathy is a criminal. Her father's "unconventional" business has meant a life of tightly held secrets, concealed weaponry, and a strict code. But Lily's crime isn't being the daughter of a powerful mob boss. Her guilt lies in the other half of her DNA—the part that can coax ancient rumors from stones and summon fire with a thought. Lily is part fae, which is a crime in her world.

From the time before she was born, a war has been raging between humanity and fae. The Queen of Blood and Rage, ruler of both the Seelie and Unseelie courts, wants to avenge the tragic death of her heir—a death that was the fault of reckless humans.

Lily's father has shielded her from the repercussions of her ancestry…until she is sent to the prestigious St. Columba's school, straight into the arms of the Black Diamonds.

Mysterious, glamorous, and bound together in their mission but constantly at odds, Zephyr, Creed, Will, Roan, Violet, and Alkamy are a Sleeper cell of fae, planted in the human world to help destroy it from within. With covers as rock stars and celebrity children, the Black Diamonds carry out the queen's war against humanity. And unbeknownst to Lilywhite, she's been chosen to join them.

Now more than ever, Lily's heritage puts her in peril, and even the romantic attention of the fae singer Creed Morrison isn't enough to keep Lily from wanting to run back to the safer world of organized crime.

Melissa Marr returns to faery in a dramatic story of the precarious space between two worlds and the people who must thrive there.
Rating: 4.5 Stars
Review: The Queen of Blood and Rage, ruler of both Seelie and Unseelie courts, hungers for human blood. Lilywhite Abernathy is the daughter of a notorious crime lord. She lives by the "Abernathy Commandments", a set of rules designed to protect her, and hide that she is fae-blood, born of fae, a secret that if known, could send her to prison, or worse.

Seven Black Diamonds is the first Melissa Marr book I've read in quite a while. The characters all had contrasting personalities which suited their roles.

I liked Creed from his first entrance in the novel. Lily herself was also an extremely interesting character, and while the book wasn't completely narrated by here, interrupted by chapters from other POVs, I saw most of the action in her had. My other two favourite characters were Eilidh, and Rhys, who reminded me of Ash from The Iron Fey series.

The story was convincing, and I really enjoyed it, and can't wait to read book two when it releases. Melissa Marr is a great writer.
Purchase Location: Borrowed From Library
Edition: Hardcover
Buy the book: Book Depository
Quotes: '"I have honor."
Lily lifted her sword and slashed at him. "Honor? Seriously? You are trying to marry me."' — Lilywhite Abernathy to Nacton.

"With the practised calm that all four of them had mastered by now, the group headed back toward the dorms. They'd figure it out.

Together."
Recommended for: Fans of Faery stories, and not the 'rolling-eyes' kind.