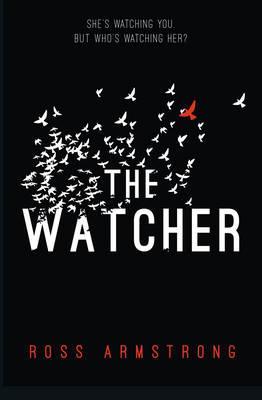 The Watcher by Ross Armstrong
Publisher: HarperCollins
Goodreads Summary: The Girl on the Train meets Rear Window, The Watcher is an absolutely addictive and on trend commercial psychological suspense read, with a captivating unreliable narrator and some powerful narrative twists. She's watching you, but who's watching her? Lily Gullick lives with her husband Aiden in a new-build flat opposite an estate which has been marked for demolition. A keen birdwatcher, she can't help spying on her neighbours. Until one day Lily sees something suspicious through her binoculars and soon her elderly neighbour Jean is found dead. Lily, intrigued by the social divide in her local area as it becomes increasingly gentrified, knows that she has to act. But her interference is not going unnoticed, and as she starts to get close to the truth, her own life comes under threat. But can Lily really trust everything she sees?
Rating: 4.5 Stars
Review: Lily Gullick spies on her neighbours. A bird watcher, she uses her binoculars to look out her apartment window and make up stories about her neighbours' lives. When an old woman is murdered a night after Lily has visited her, Lily realises that she may have more information on the killer. The police don't believe her, so she conducts her own investigation. Her snooping doesn't go unnoticed, and soon she is being watched too. But the truth isn't always separated from lies...

This book is written in an original style. At first it took me awhile to understand Lily's observations, but the more I read the easier it became. The stories and names generated by Lily's mind were nothing short of intriguing. The story is directed at Lily's father and is similar to the daily diary entries suggested by Lily's therapist Helen. The mystery side of the novel is nice, I predicted the outcome early on, however at various points throughout the novel Ross Armstrong managed to convince me that I was wrong, make me doubt my theory to the point where I began believing Lily's thoughts.

Other than Lily, the characters that intrigued me are the siblings, Chris and Nathan. While Nathan has very few appearances and Chris a few more, they have a great symbolism and aid Lily throughout her adventure. They're complex because they have little reason to help and not betray Lily but some cash and sense of respect/loyalty. Chris also sees Lily as someone other than the "crazy girl down the road".

Lily's dad was very influential during his short appearance in The Watcher. After his arrival many aspects of the story are revealed, a lot becomes clearer, plus some of the truth and lies are separated. Lily's personality is partially a health condition as well as her underlying curious personality. The Watcher tells the tale of a woman trying to do the right thing and solve a murder mystery while being branded as psychotic and troubled.
Purchase Location: ~I received a physical ARC from HarperCollins NZ and willingly reviewed it~
Edition: Paperback
Buy the book: Book Depository
Recommended for: Fans of mystery and slightly crazy characters.