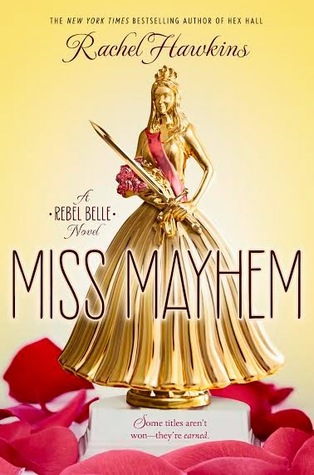 Miss Mayhem (Rebel Belle #2) by Rachel Hawkins
Publisher: Speak
Goodreads Summary: Life is almost back to normal for Harper Price. The Ephors have been silent after their deadly attack at Cotillion months ago, and best friend Bee has returned after a mysterious disappearance. Now Harper can return her focus to the important things in life: school, canoodling with David, her nemesis-turned-ward-slash-boyfie, and even competing in the Miss Pine Grove pageant.

Unfortunately, supernatural chores are never done. The Ephors have decided they'd rather train David than kill him. The catch: Harper has to come along for the ride, but she can't stay David's Paladin unless she undergoes an an ancient trial that will either kill her . . . or make her more powerful than ever.
Rating: 3 Stars
Review: I didn't hate it, but I didn't love it. It was a good read, enjoyable, however I wouldn't recommend it to everyone.

Miss Mayhem was quite similar to Rebel Belle, in that it wasn't as interesting as it could've been. The basis for an interesting story was definitely there, but not used enough to keep it interesting. The background is a very original idea that I liked, however it didn't live up to its full potential.

One thing I really hated/strongly disliked about both Rebel Belle and Miss Mayhem, Miss Mayhem even more than Rebel Belle was the focus on Harper being a pretty, 'perfect', girl with a normal life. This screamed cliché to me, and I felt the same for all her relationships. I understood her perfection in a sense, but the relationships were unnecessary.

Continuing with that, Rachel Hawkins didn't just start with a love triangle, she used at least three that I counted, and pretty much every main character dated the other's ex. I felt that the emphasis should've been on Paladins, Ephors, Mages, and Oracles rather than trying to keep the normalcy of YA Contemporary.

Miss Mayhem had a lot of room for potential, but sadly it just didn't happen. It wasn't a terrible book, but I simply just didn't fint it as enjoyable as I thought I should've.
Purchase Location: Borrowed From Library
Edition: Paperback
Buy the book: Book Depository
Quotes:

"And I think one day, one day soon, you're gonna have to choose." — David Stark to Harper Price, Miss Mayhem

"I didn't hear anything else as the world shattered apart around me." — Harper Price, Miss Mayhem


"There were hardly any more words at all."